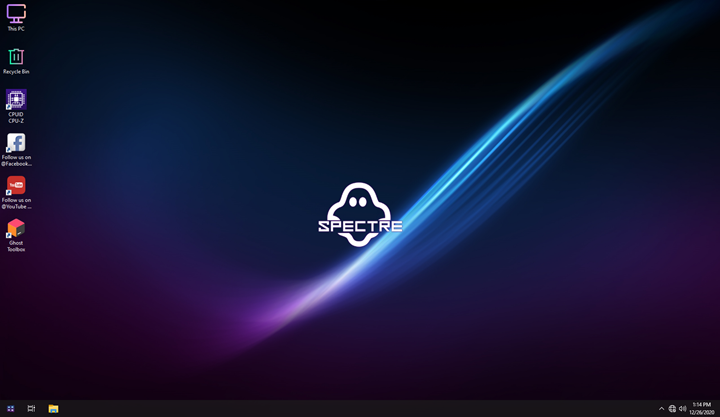 Windows 10 is a major release of Microsoft's Windows NT operating system. It is the direct successor to Windows 8.1, which was released nearly two years earlier. It was released to manufacturing on July 15, 2015, and later to retail on July 29, 2015.
OS build: 1904X.1766
Edition: PRO + SUPERLITE + SE + COMPACT + DEFENDER + W/O DEFENDER
Version: 2004 / 20H2 / 21H1 / 21H2
Arch: x64
Lang: en-US
06/17/2022 – AIO VERSION UPDATE 2
– Update OSbuild 1904X.1766
– Update Defender Engine
* Security intelligence version 1.367.1647.0
NOTE: For Laptops/Tablet please install COMPACT Version, and enable Hibernation/Sleepmode.
NOTE: REQUIRED INTERNET TO USING GHOST TOOLBOX.
NOTE: XBOX Gamepass only works on non-Administrator Accounts. (Don't forget to Set Other Users to Administrator Group)
NOTE: If SSD not detect during setup installation please try normal bootable version.
*If you need Add weather, news and stocks to your Taskbar, Please install Microsoft Edge Chromium.
FEATURES
– Compact Integrated + LZX (algorithm)
– Forced .NET Framework 4.0/4.5/4.6/4.7/4.8
– Bloatware FREE!!
– Optimized Pagefile/Services/Scheduled/Search Indexer
– Privacy Optimizations & Performante mode!
– Ghost Toolbox! (Add or Remove Windows Store and Much More!)
– Support any Other Language & Keyboard
– Support UWP Games / UWP Apps (ex. Forza/GOW/etc etc)
– Stock Drivers is not removed
– Dark theme by default
– Updatable (can update to latest build windows10 version 2004/2009/21H1)
– Window update can be paused until 2050!
– GHOST CUSTOM BOOTABLE! (WPE)
– Windows 10 Themes
– Windows 10 iconpacks and much more!
REMOVE/DISABLES COMPONENT
– Removes Windows Apps and System Apps
– Removes Windows Security / Defender / Smartscreen
– Disable Remote Desktop / Tablet keyboard / NFC / Clipboard / Focus Assist – (Superlite only)
– Disable Print spooler (If you need printers please set Auto in Services)
– Removes OneDrive
– Disable Action Center / Notifications – (Superlite only)
– Disable Telemetry – (Superlite only)
– Removes Errors reports – (Superlite only)
– Disable UAC (Never notify)
– Removes WinSxS backup
– Removes Winre (can add using Ghost Toolbox)
Size: 3.02 GB / 2.89 GB
Homepage: Microsoft
Download Normal Boot: RAPiDGATOR – NiTROFLARE – DROPAPK – MiXLOADS – MEDiAFiRE
Download WPE: RAPiDGATOR – NiTROFLARE – DROPAPK – MiXLOADS – MEDiAFiRE
FileCrypt Password: 3367